Peoples' Stories
Have you received or given blood and would like to share your story? We would be delighted to share peoples' stories about receiving blood transfusions and giving blood. Email us at marketing@ibts.ie and tell us your story or direct message us via our facebook page.
Emma's Story
"a gift money can't buy"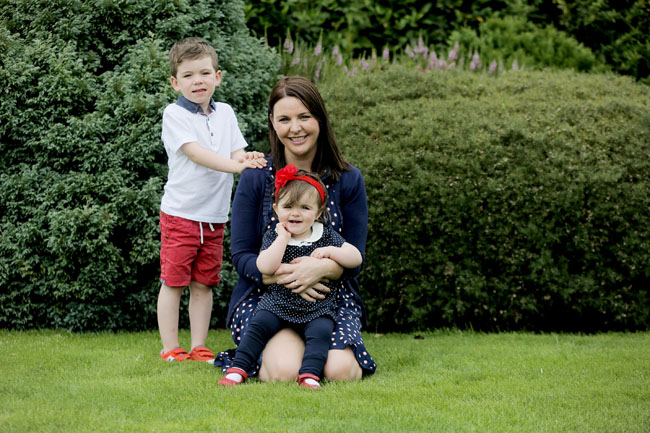 One person who owes their life to blood donors is Emma Gilbey, who lost a massive amount of blood following a post-partum haemorrhage. She was giving birth to her first child, Charlie, when serious complications turned what was expected to be a low-risk birth into an emergency situation.
"When I thought before about blood donations I would have thought about stabbing victims or car crashes or something," she says. "The furthest thing from my mind going in to have a baby was that I might need a blood transfusion."I'd encourage, especially men, to think that this could be your sister or your wife or girlfriend going in to have a baby."Last year 11% of donated blood went towards treating women who lost blood after childbirth."It's the most selfless thing anyone can do, really," says Emma. "It's not like they get any big thank you for it."It's also a way of giving back for those who feel they can't afford to donate to charity. "It costs nothing to donate blood," she says. "But that's really a gift money can't buy, you know?"
Roger's Story
"It will almost certainly save someone's life."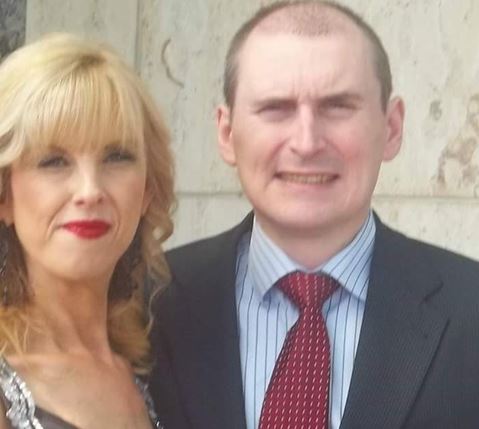 Roger McGlynn's first exposure to blood donations was giving blood along with his wife Lisa."I only started donating blood when I met my now wife," Roger tells JOE. "She donated a lot so I started." Little did he imagine at the time that blood donations would one day keep him alive. The first signs of trouble appeared as the couple prepared to go to a wedding in 2010.
"We were getting ready to go to a wedding in May," recalls Roger. "The wedding was on a Saturday. I started to feel a bit tired on the Thursday before it and to get a sore throat."The symptoms persisted after the wedding so he decided to see a doctor and he was prescribed antibiotics. Things reached a head a week later. "I couldn't eat any food. I started to feel very unwell and ended up taking an ambulance into the hospital. The doctor said it might be appendicitis. They took a blood sample and I had a very high blood count. I was diagnosed with leukaemia."
The diagnosis was a huge shock. Roger was only 41, a non-smoker and he led an active lifestyle. At the time, he was still playing hurling and training three or four times a week."Cancer would have been the last thing on my mind," he says. He was taken to the Mater Hospital and placed on an urgent schedule of chemotherapy treatment. Time was of the essence and the doctors worked on getting him well enough to handle the bone marrow transplant he needed. His weakened immune system and the cocktail of drugs he was being treated with took their toll as he spent two weeks in the Intensive Care Unit. Roger admits he was "touch and go" during this time.
The blood transfusions he received during this time were vital to keep him alive."Because my bone marrow wasn't functioning properly, I had to get numerous blood donations and platelet donations during my time in the Mater. I would have been getting blood almost daily. "When the blood comes in you feel much better. It picks you up. I don't know if some of it is psychological but you definitely feel the benefit of it. "It made me feel that there were people out there who wanted to help me."
He continued to receive transfusions until November while also receiving a variety of treatments to tackle the leukaemia. As Roger's condition improved, the doctors were able to source a bone marrow donor who was a match. Luckily, the transplant proved to be a success. Roger knows he was lucky to come out the other side and he points out that many of the people he shared a ward with were not so fortunate. He urges people to donate blood and give the gift of life to all sorts of people in need.
"People should definitely consider donations and I say that as a donor and a recipient," he says. "When you're a donor, you're in perfect health. It doesn't hurt and your blood will almost certainly be used. It will probably save somebody's life, whether it's something like a car accident or something else. Most donors think it'll be used for something like an accident. I wouldn't have thought that cancer patients needed it. He points out that his wife Lisa rarely misses a chance to donate and that she was recently honoured for making her 50th donation, which is a remarkable achievement. It can be easy to assume that someone else will do it but Roger's story is a reminder of the importance of doing your bit. Blood is badly needed and it's used to treat many people that you wouldn't expect to need it.
"I would have been a healthy young man. People of all walks of life and all ages need blood donations. You never know – it might help your family or friends. It doesn't hurt to donate. There might be some slight inconvenience. I know it's hard if you've had a busy day at work but it's very much appreciated by the people who receive the donation. "As a donor, you might never know who gets the benefit but it will almost certainly save someone's life."
John's Story
"platelets saved my baby son from the worse nightmare that any parent can through - meningitis"
John is a committed platelet donor and recently reached the grand milestone of 100 donations. Its something that he takes time to do and it is important to him.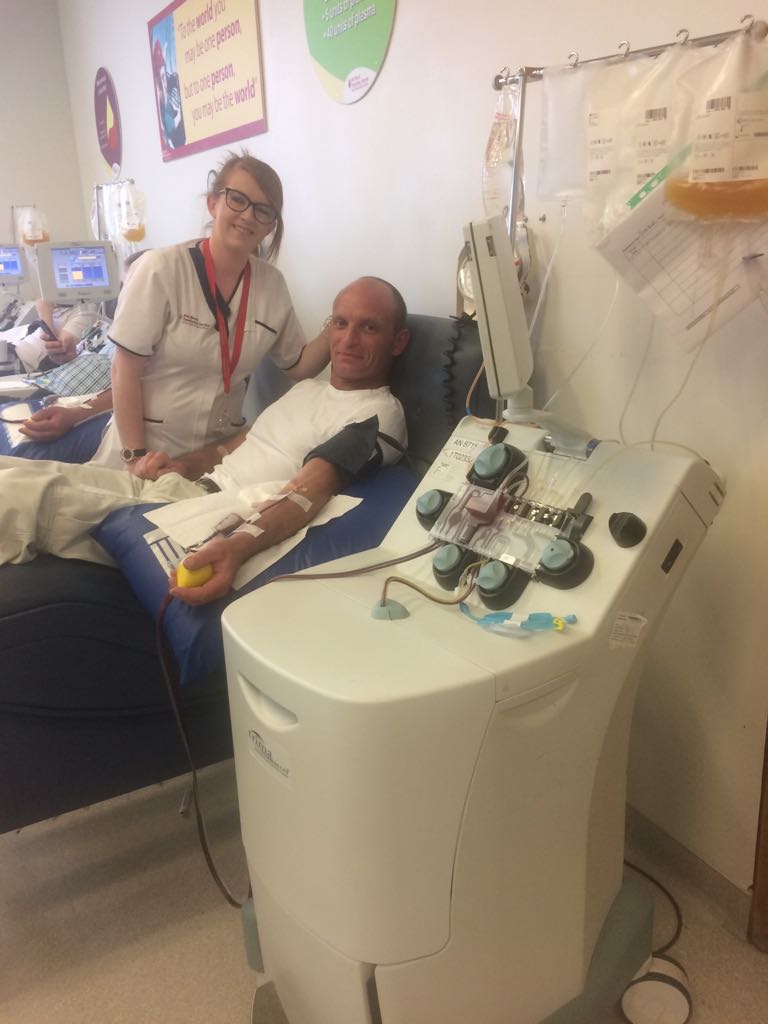 "my reason for donating is simple, a person 13 years ago took the time to donate platelets and those platelets saved my baby son from the worse nightmare that any parent can through - meningitis - and because of this he is grown up to be a fit and healthy 14 year old teenager. I will never know who that person is, but from the bottom of my heart I will always thanks them for taking the time out to donate". 
Vincent's Story
"I went full circle from being a platelet donor, to having a child who was to become a recipient of platelets." 
Vincent Donegan is a Firefighter/Paramedic with Dublin Fire Brigade. He has been a dedicated blood donor and now a platelet donor for the last 28 years, since he was 18 years old! It is something he has always enjoyed doing.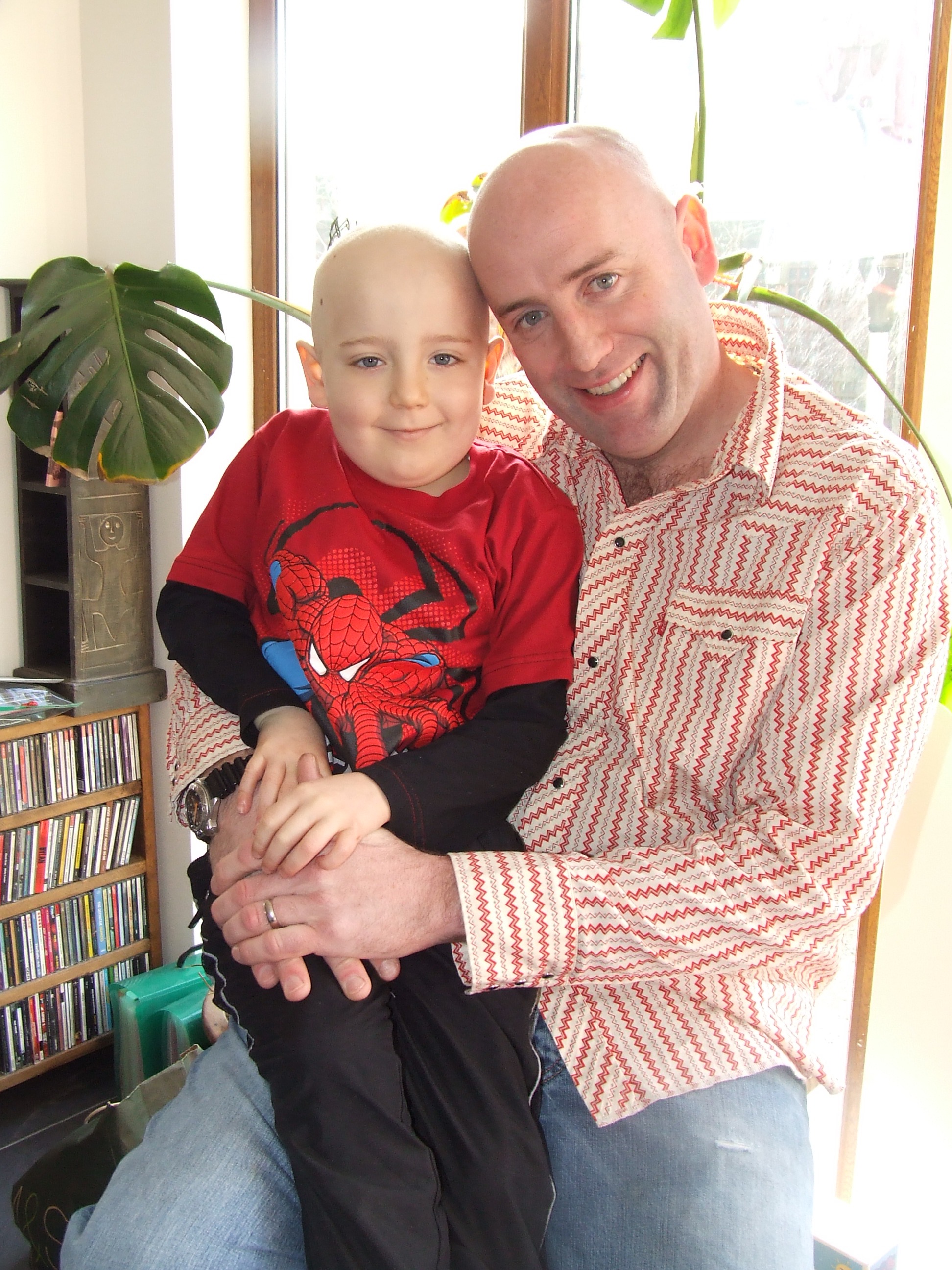 "I always knew that my donations were going to very sick patients which was a driver for me to donate on a regular basis. It was only in 2009 that I realised how important each and every single donation that I had made was and how much it was needed. I went full circle from being a platelet donor, to having a child who was to become a recipient of platelets. In September 2009 our son Callan started primary school, that week he was diagnosed with acute lymphoblastic leukaemia."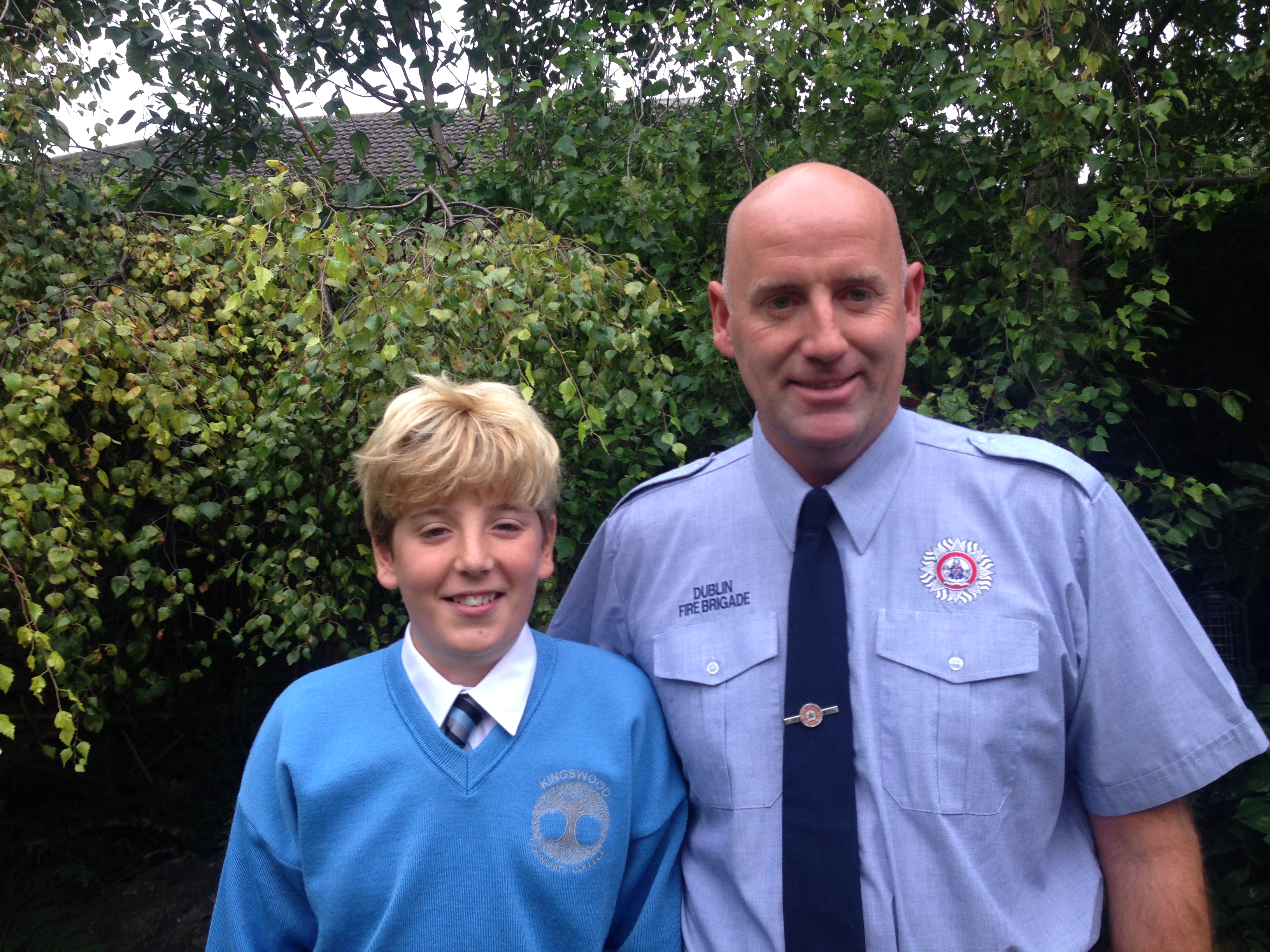 "8 years on, he marks a new milestone by starting secondary school. He has made this milestone thanks to all the donors out there who donated platelets and blood, without which he would not have beaten this disease. So to each and every one of you, thank you so much from him and us and please keep doing what you do to help others like him. And encourage others to donate. You are special."
Tom's Story
"When you give blood you help people like Tom."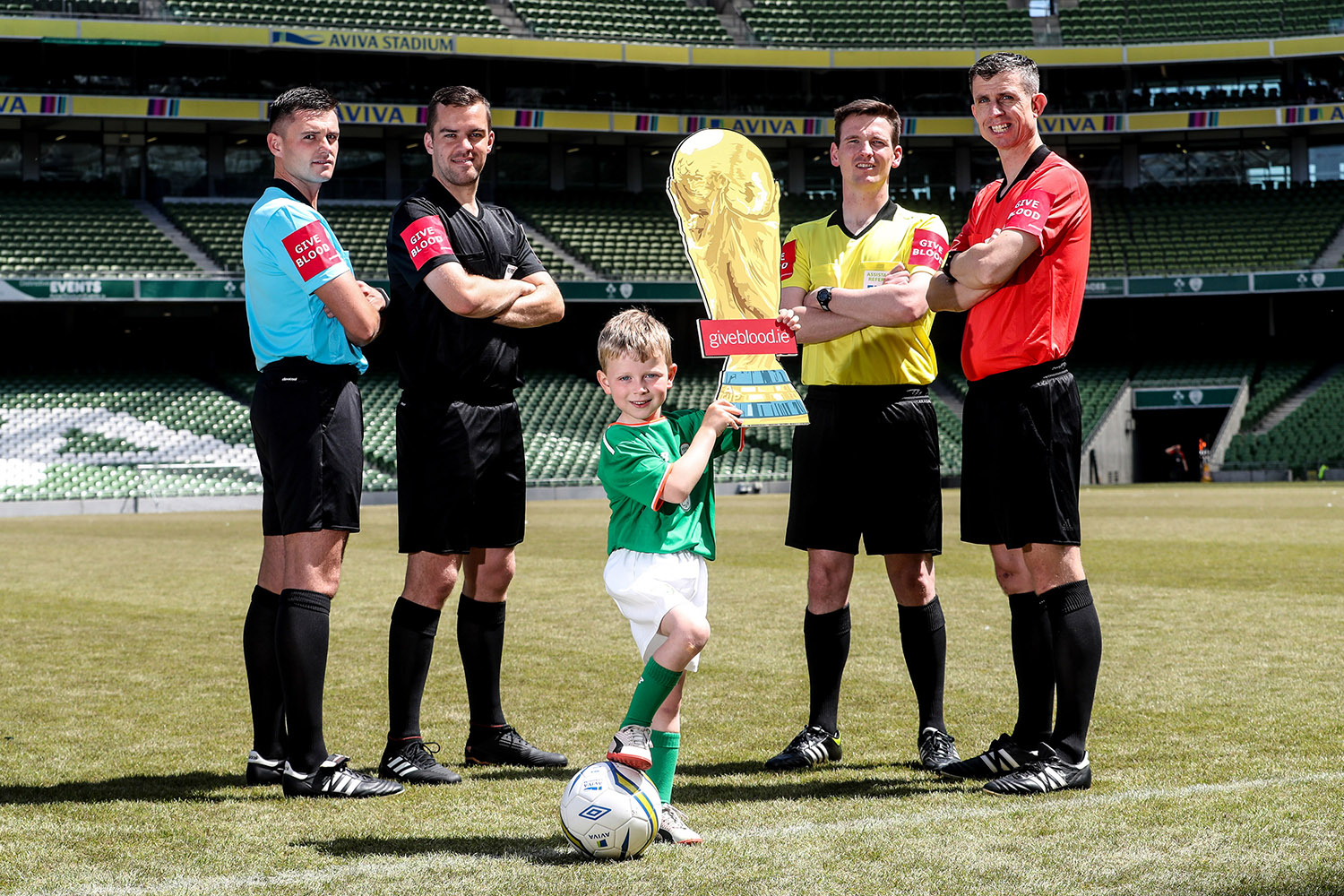 When you give blood you help people like Tom. When Tom was 9 months old he became very sick. What appeared to be an innocent tummy bug was in fact a bowel disorder called intussusception, a condition where the bowel folds over and blocks itself. Tom ended up losing over half his blood through internal bleeding and surgery. He developed sepsis and needed 24hr care in ICU. Tom received red cell transfusions to treat his low blood levels and coupled with antibiotics, he started on his road to recovery. After he received the blood his parents could see the colour return to his cheeks and it gave them great hope that he was going to recover. Tom is now a perfectly healthy 6 year old and totally sports mad! 
Photo shows Tom Doyle (6) and the giveblood.ie world cup at the Aviva stadium, with FAI referees (L to R) Robbie Hennessy, Rob Harvey, Tom Doyle, Darragh Keegan, Darren Carey, who are sponsored by Giveblood.ie.